Since its foundation in 2020, YunExpress Europe, the European headquarters of YunExpress and a leading global cross-border e-commerce logistics provider focusing on European markets, has started providing services in over 30 European countries and has established branches in 21 of them. These achievements would not be possible without the effort and commitment of our great local teams. In this series of stories, we share insights into our business' operation and how we develop along with it.
E-commerce is a crucial pillar of the German economy, with 82% of Germans using online shopping services. In the last two years, the pandemic has accelerated an existing consumer trend in favour of digital solutions, creating significant new opportunities. Between 2020 and 2021, the German e-commerce market grew by 19%, and it's expected to reach more than €110 billion in 2022. Many of these transactions are international, and Germany accounts for 28.5% of European cross-border e-commerce activity. To thrive in the competitive German market, providers need to keep prices low whilst differentiating their products and services from competitors.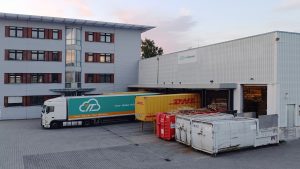 In this latest instalment in the "Our Stories" series, we explain how YunExpress Germany has been meeting – and exceeding – high consumer standards and delivering outstanding performance for stakeholders across the e-commerce logistics industry.
YunExpress has been operating in Germany since 2015. Our 5,000-square-metre logistics hub is strategically located within Europe's Golden Triangle, just 12 minutes' drive from Frankfurt airport. At this site, we carry out logistics processes such as shipment consolidation, processing, sorting and re-shipping to other European destinations. We have 100 full-time and outsourced employees processing around 20,000 business-to-consumer (B2C) parcels per day.
Our efficiency and reliability in end-to-end shipping solutions make us a trusted partner for Germany's most distinguished delivery providers. After several years of close collaboration with DHL and Deutsche Post, we became the certified partner for both these organisations earlier this year.
The foundation of this success is a dedicated local team. Most of our professional experts have been with the company for more than two years, and this experience translates directly into high-performance handling. Building close relationships between management and employees is a top priority for our General Manager at YunExpress Germany, Jingjing Ding. "With a stable local team and a sound working environment," she explains, "we've achieved strong levels of employee engagement. I'm very proud of the team and the impressive results we've achieved together."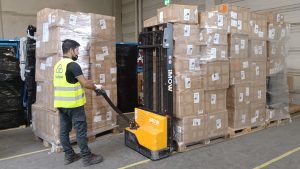 Our coverage across Europe is equally strong. We can access more than 100 line-hauls throughout 30 different European countries, taking full advantage of our industry-leading handling, sorting, transit and delivery speeds. "These efficiencies give us impressive reach across the continent," Jingjing continues. "From our base in Germany, we can reach customers in Spain and Italy in just 2-3 working days. As well as optimising lead times, our extensive local carrier network and large shipping volume consolidation mean we can offer highly competitive rates."
E-commerce clients have unique logistics needs, so we tailor our service portfolio to these precise requirements. We take care of all delivery aspects – warehouse pick-up, inland and cross-border freight transport, customs clearance, parcel sorting and last-mile delivery – and this end-to-end solution offers clear benefits for international shipping. Our advanced customs clearance solutions, including Import One Stop Shop (IOSS), Delivered Duty Paid (DDP) and VAT On E-commerce (VOEC) also contribute to our success in cross-border e-commerce.
Amazon sellers are a crucial part of the e-commerce network, and YunExpress Germany provides a bespoke service for these customers. We pick up their goods, take them to our logistics hubs, then transport them to the right Amazon fulfilment centres, meeting all of Amazon's shipping standards every step of the way. Besides this, we provide additional value through warehousing, shipping, storage and relabelling.
Finally, YunExpress Germany has a sophisticated infrastructure and crew for processing returns. Every day, we handle 10,000 return parcels, mostly clothing and shoes. We also take multiple steps to manage German customers' high return demand: beyond undeliverable returns, we offer solid and customisable solutions for consumer returns, including parcel collection, quality control, repackaging, relabelling, reshipment and more.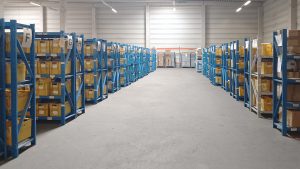 Since entering the German logistics industry in 2015, we've made extraordinary progress – and we have big ambitions for the coming years, as Jingjing explains: "One of our main goals is to provide comprehensive and fully customised logistics solutions – both inbound and outbound," she says. "To achieve this, we will keep investing in establishing own-controlled hubs, as well as continuing to diversify our existing route network. By opening more routes to and from key gateways, we can increase our footprint across Germany – and Europe. This growth will allow us to play a fuller role in developing the entire e-commerce logistics ecosystem across the continent, leveraging our considerable expertise to provide greater value for consumers."
Are you interested in learning more about international shipping solutions? Click here to get in touch with us and see how we can help your cross-border e-commerce business thrive in and out Germany.