For many international e-commerce providers, an increase in transit times and costs has exacerbated the challenges of UK-to-EU deliveries with Brexit and ever-updating regulations. Extra paperwork and customs checks, for instance, lead to shipping delays and make it harder to fulfil commitments to consumers. Fortunately for the logistics supply chain, YunExpress UK is ready to help you overcome these hurdles. 
Founded in 2020, YunExpress UK is ideally positioned to help local carriers, contract logistics and fulfilment companies as well as international e-retailers address post-Brexit shipping issues and mitigate any challenges. We can offer a one-stop, end-to-end parcel solution or a flexible and scalable modular solution, customised to your specific logistics needs.
YunExpress UK has two strategically located facilities. Our new 50,000 sq feet bonded warehouse at London Heathrow Airport (LHR) enables speedy customs declarations, while our logistics hub near Birmingham is dedicated to returns management. Together, these sites process 100,000–200,000 parcels every day.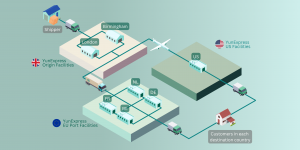 And yours could be among them: we're a trusted partner to many UK clients, providing a wide range of logistics and fulfilment solutions, from cargo pick-up to last-mile delivery.
1. Customs clearance without the headaches
If you're struggling to navigate the post-Brexit customs landscape, let us be your guide. YunExpress UK can support your clearance processes at LHR, STN, BHX, MAN, LGW and LTN airports. And that's just in the UK: we also have close to 20 clearance gateways across the EU.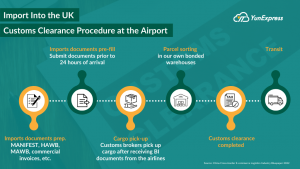 Need customs pre-paid (DDP) or Import-One-Stop-Shop (IOSS) solutions into the EU? T1 transit at any gateway or BIRD declarations in the UK? Our systems are ready to support you. Customs clearance procedures are normally completed within 24 hours – or with our pre-clearance option, your cargo will be picked up within two hours of arrival, meaning no unnecessary waiting time and greater cargo security. Whichever option you choose, you can enjoy the visibility of each activity node and confirmation along the process thanks to our Overseas Transport System (OTS) and advanced digital integration with clients (API or user centre platform).
With our substantial customs clearance resources and in-depth experience in analysing operational data, we can guarantee efficiency and accuracy, help handle all paperwork and get your parcels moving quickly across borders.
2. Driving UK–EU land freight transport to the next level
Whether you need full-truckload (FTL) or less-than-truckload (LTL) solutions, we have the pan-European coverage and B2C specialisation you're looking for. YunExpress's self-run line-haul network covers more than 30 European countries and connects 21 logistics hubs throughout the continent. Our stable schedule and daily departures guarantee on-time deliveries; for example, shipping from the UK to France takes place in two to three working days, including customs clearance.
Thanks to our parcel consolidation approach, we offer competitive rates to our clients, as well as provide customised value-added services such as GPS tracking and proof of delivery (POD) upon request. Of course, all this is supported by our dedicated customer service team, available 24/7. 
3. Warehouse handling with full peace of mind
Our LHR warehouse features 11 loading and unloading bays to avoid unnecessary delays. YunExpress UK staff receive the highest level of training and are fully committed to best practices and seamless operational processes; in fact, our optimal handlings always ensure all process from inbound to outbound is completed within 24 hours, and shipments can be successfully transited as little as 2-3 hours.
We also provide a broad array of value-added services on your demand, including goods storage, cross-docking, cargo unpacking and palletising, PMC break-down and build-up, sorting and labelling. If you're seeking a sound warehouse handling solution, don't hesitate to ask!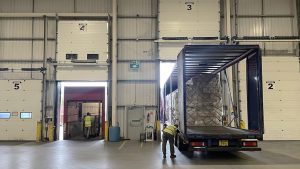 4. Returns management made easy
At YunExpress UK, we take pride in offering a smooth and simple returns management service, for both consumer returns and undeliverable returns. Our tailored solutions include parcel collection, quality inspections, co-packing, repackaging, relabelling and re-storage – and you can choose whether you want the returned parcel to be re-sent, re-stored, destroyed or transported elsewhere.
Plus, with our up-to-date returns management systems and software, we can help make the process clear, convenient and satisfying for your end-consumers.
From start to finish; east to west — YunExpress UK is your trusted partner
We can combine all these services – and much more – to provide e-sellers with end-to-end international shipping services that cover the entire B2C e-commerce logistics supply chain. Our all-in-one solution is both scalable and reliable, integrating our modular services into a speedy, streamlined process that supports your business and grows customer loyalty.
What's more, thanks to our worldwide hubs and close connections with major gateway ports around the globe, we'll even help you expand your reach from the UK and Europe to other key markets, including the Middle East, the Americas and the Asia-Pacific region.
If you're an SME client, with our favourable end-to-end logistics solutions, you don't have to worry about the tedious data management or complicated taxation work but deliver goods from the warehouse to customers in the target markets worldwide without a hitch. If you're an established player in the logistics industry, we offer modular professional services and customisable solutions in stages to fill in the last bricks of your network and take your international parcel shipping to a new level.

"When it comes to complex cross-border logistics, there's no one-size-fits-all solution," says Lily Wu, YunExpress UK General Manager. "Especially after Brexit, we know the importance of tailoring our solutions to meet the needs of UK clients and their international customers. That's why we establish partnerships with key local players in retail, e-commerce and logistics – creating a shipping and delivery ecosystem that works for everyone's benefit!"
Want to learn more about what YunExpress UK can do for your shipping operations? Contact us today.