The Nordics are marked by beautiful countryside, quiet remote areas, and icy winters. Still, Denmark, Finland and Norway have around 5,5 million inhabitants, and Sweden has more than 10 million, bringing the combined population to more than 27 million people. It is not only the number of people or the mean income in the Nordics (among the highest in Europe) that makes it an interesting region for e-commerce players. 
The number of online shoppers has increased steeply in the past two years because of the lockdowns. While some of these shoppers will return to their old shopping habits offline, others will continue shopping online now that they have discovered its convenience.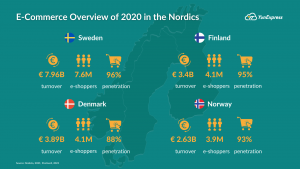 Opportunities in Cross-border E-Commerce in the Nordics
Gaps in the local markets
The high local price levels also imply that the regional purchasing power is also high. E-shoppers from Denmark and Finland spend (on average) the most compared to other European countries, and Sweden is not far behind. Nevertheless, the focus of the major companies in the Nordics is not (yet) on the e-commerce business. Since the local production resources are limited, the Nordics are much dependent on imports. As a result, this leaves significant gaps in the domestic e-commerce market and creates opportunities for cross-border e-commerce companies outside the Nordics.
E-Shopping abroad on the rise again
In the past two years, the focus of online shoppers has moved more towards buying from local companies, as the pandemic caused product shortages and huge delays in cross-border shipping. Nowadays, the situation is back to (the new) normal, as e-commerce shoppers have started to look beyond their borders more frequently. Among all the online purchased products, the clothing and footwear category earns the highest share of more than 50%.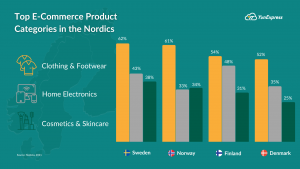 Sustainability as a trend
There are also opportunities for e-retailers that focus on sustainability. The number of consumers that are conscious of the impact on the environment is growing. Not only is this group actively looking for carbon-neutral shipping options, but also they are moreover willing to pay a premium for it. 
Exceeding customer expectations
Delivery is one of the most important moments in the customer journey – literally, the moment that a customer has been waiting for. It is vital to meet your customer's expectations and exceed them even better. Cross-border e-commerce players with the right logistics partner can deliver faster and use the delivery time as an additional strongpoint. More time could be saved when that same partner does shipping and customs clearance. If they also take care of fulfilment from a local warehouse, the distance to the end customer is even shorter. This provides your customers with the best service experience. An increase in customer satisfaction instils loyalty to the platform or e-retailer.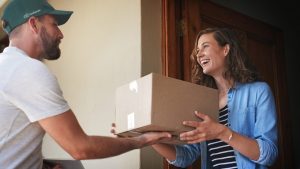 There is a lot of potential in the Nordics, but the region equally presents challenges. Some of them are the same across all four countries, and some of them are more specific.
Challenges in Cross-border E-Commerce in the Nordics
When it rains, it pours
Heavier than other countries in Europe, the Nordics are impacted by the weather. Low temperatures, heavy snowfall, and strong winds hurt transportation operations and negatively impact delivery times. It is essential for e-commerce companies to partner with a logistics service provider who knows the local terrain and can navigate the potentially harsh local circumstances upfront.
Long distances create on-time delivery challenges
Norway, Sweden and Finland are in particular vast countries compared to the number of inhabitants. People live relatively far apart, with a rather large number of people living in remote areas, which creates distribution challenges. The larger the distance between the distribution centre and the customer, the longer the delivery time. To exceed your customer's expectations, you need to be able to cut time off the delivery time wherever you can. Finding a logistics partner who has robust distribution networks with solid connections to local delivery players is therefore essential – a logistic partner who has fulfilment capability is even better.
Different countries, different preferences
While the Nordics can be seen as one market, it's combined of four different countries and four different local preferences, such as who delivers their package and where. One that jumps out is Finland, where more than half the online shoppers want to pick up their parcels at a service point or a parcel machine. Only 27% want their packages delivered to their home, and even then, they prefer receiving large envelopes via mailbox channel. A logistics company with strong localised teams and local know-how will make it easy to navigate these differences. Therefore, finding a logistics partner who has a physical presence in four Nordic countries and knows exactly the local specifics is crucial.
Shipping to and from non-EU countries
The final challenge worth to be mentioned is that Norway is not part of the European Union. This means that goods entering Norway from the EU, or the other way around, need to be customs cleared complying with either VAT On E-Commerce (VOEC) or Import One-Stop Shop (IOSS). It can become a challenge, which leads to delays or fines if the customs processes are not well organised or the customs rules and regulations are not complied. Therefore, it's particularly important to cooperate with a logistics partner who offers reliable customs clearance that meets each country's customs standards to guarantee zero tax or duty collection hassles for your customers.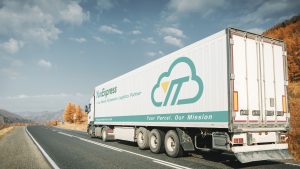 How YunExpress Enables Cross-border E-Commerce in the Nordics
Whether you are an e-commerce company entering the Nordic markets, or a Nordic e-commerce company expanding into the rest of Europe, you need a reliable logistics partner capable of cross-border shipping.
Established in 2020, YunExpress Europe is a leading provider of cross-border e-commerce logistics, who works closely with local partners, running over 100 daily logistics routes across 30 European countries. With logistics hubs sited in 21 European countries, including Nordic branches with professional teams in Sweden, Norway, Finland and Denmark, YunExpress is perfectly positioned as that ideal logistics partner for you.
Logistics hubs in Sweden, Norway and Finland

Daily line-hauls between 21 European logistics hubs

In-house local teams with local know-how's

Strong cooperation with local last-mile carriers

Customs Clearance covering the EU and Norway 

Fulfilment and returns management capabilities
Grab your e-commerce opportunities in the Nordic region, and let YunExpress Europe tackle cross-border shipping challenges and ensure a smooth flow of your parcels.